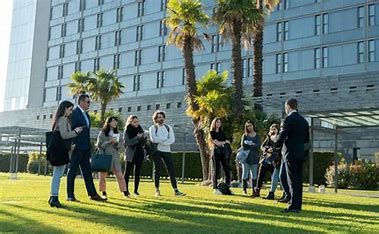 | | |
| --- | --- |
| Study location | Spain, Carrer D'Aragó |
| Type | Master, full-time |
| Study language | English |
| | |
| --- | --- |
| Tuition fee | €13,490 per year |
| | |
| --- | --- |
| Language requirements | English |
| | |
| --- | --- |
| Other requirements | At least 2 reference(s) should be provided. |
Overview
As the business world continues to grow, evolve and progress in diverse ways, it is necessary for business leaders to keep pace with these advancements. Global business continually transforms and the postgraduate diploma in International Business (hereinafter – Master in International Business in Barcelona) is specifically designed with transformation and innovation at its core.
The program equips students to take on business challenges in any global context. The comprehensiveness of the Master in International Business in Barcelona is reflected in modules that cover multinational markets, business practices around the world, effective business communication and strategic know-how. This Master in International Business in Barcelona readies students to quickly take their place in a global environment, bringing with them inimitable skill, talent and expertise.
GBSB Global Business School is accredited by the Government of Catalonia's Department of Education and delivers postgraduate diplomas (a minimum of 62 ECTS, EQF/MQF Level 7) face-to-face from our campus in Barcelona, Spain. Once you've met the requirements of an exit award, terminate your studies by proceeding to the Master of Science in Management (International Business) (90 ECTS, EQF/MQF Level 7), by completing the last quarter of your studies online.
Programme structure
ADVOCATE FOR INCLUSION, TEAMWORK & DIVERSITY IN A MULTINATIONAL ORGANIZATION
Effective Teamwork and Project Management (6 ECTS)
Diversity Management and Global Workplace Inclusion (6 ECTS)
Organizational Behavior
The Concept of Workplace Motivation and Satisfaction
The Dynamics of Group Performance
Relationship Between Power, Politics, Conflict
The Organizational Culture and Its Relation to Workplace
Diversity Across Cultures
The Strategies for Addressing Race, Religion, and Ethnicity Diversity and Inclusion
Gender Diversity in the Workplace
The Benefits of Inclusion of People with Special Needs
The Concept of Work-life Balance (WLB)
Current Issues in D&I Worldwide
CONTROL AND ENHANCE OPERATIONAL AND FINANCIAL PERFORMANCE OF AN INTERNATIONAL BUSINESS
Operations Management (6 ECTS)
Finance for Management (8 ECTS)
ANTICIPATE AND MANAGE INTERNATIONAL BUSINESS CHALLENGES AND PLAN EXPANSION STRATEGIES
International Business and Global Business Challenges (6 ECTS)
The Main Concepts Related to the Global Business Environment
Political and Legal Systems
Global Integration Policies
Emerging Markets
Global Factors of International Business
UNDERSTAND INTERNATIONAL MARKETING AND EXECUTE MARKETING CAMPAIGNS
Organizational and Business Level Context of Marketing Strategy
External and Internal Environment Factors
The Marketing Mix
The Mission Statement, Corporate Objectives and Functional Areas of an Organization
MANAGE INTERNATIONAL BUSINESS FOCUSING ON TECHNOLOGY AND INNOVATION
Digital Transformation, Innovation and Technology (6 ECTS)
Digital Economy and Its New Driving Forces
Digital Strategy and Transformation
Drucker's 7 Sources of Innovation, Open Innovation
Strategic Approaches to Managing Innovation
Disruption Theory
Digital Transformation Journey
DEAL CONFIDENTLY WITH GLOBAL FINANCIAL ISSUES, INTERNATIONAL LOGISTICS, AND TRANSPORTATION
Global Financial Markets and Instruments (6 ECTS)
International Logistics and Transport (6 ECTS)
Performance of Global Financial Markets in Different Economic and Political Contexts
The Role of Capital Markets in Economic Growth
Global Fixed-Income Markets
Global Equity Markets
Derivatives & Risk Management
Sourcing Funding from the Capital Markets
Modern Distribution Systems
Modes of Transport in a Modern Society
Innovations in Air and Maritime Transport
Modal, Intermodal, and Multimodal Transport
Contemporary Issues Facing Carrier Management
Regulatory Frameworks for Different Transport Modes
Freight Cost and Pricing
Third-Party Logistics
Trade and Customs Procedures
INVESTIGATE AN INTERNATIONAL BUSINESS ISSUE AND PRESENT YOUR FINDINGS IN A COMPREHENSIVE FINAL PROJECT
Final Project (Capstone)
The Capstone Project is an expansive assignment that serves as the finish touch to the Master journey. Apply the learned knowledge and skills from the program to investigate a specific problem or idea related to an area of specialization. Once this issue is identified, it's necessary to apply relevant skills and expertise in developing a solution that addresses the problem head-on. Students have several options for their Final Project, such as a research-based approach or a more hands-on problem-solving technique. The proposed solutions are normally practical and interactive, with the potential to be implemented in professional settings or used for further research and study.
DEVELOP APPROPRIATE TACTICS, INCORPORATING STRATEGIC MANAGEMENT AND KNOWLEDGE OF THE GLOBAL ECONOMY AND GEOPOLITICS, TO BRING YOUR MASTER'S STUDIES TO A CLOSE
Economics and Geopolitics (6 ECTS) (Online)
Strategic Management and Analytics (8 ECTS) (Online)
Principles of Behavioral Economics
Geopolitics and Geo-economics Methodologies
Causes of Globalization
Strategic Management, Planning and Structure
Strategic Approaches to Analyzing the Position of an Organization
Data and Strategy
Career opportunities
POLICY ANALYST
A Policy Analyst surveys the effectiveness of current policies and facilitates the framework for new programs and legislation to meet the company's objectives and policy goals.
NEW COUNTRY EXPANSION ANALYST
This role is responsible for researching new markets, establishing early-stage pilots, scouting locations and scaling fruitful programs to effectively launch operations in new countries.
FOREIGN SERVICE OFFICER
A Foreign Service Officer represents their government and assists in promoting peace, supporting prosperity, and safeguarding citizens who are traveling abroad.
FOREIGN EXCHANGE SPECIALIST
Foreign Exchange Specialists help their clients understand and capitalize on foreign currency markets by providing clear insight on exchange rates and variables in global markets.
INTERNATIONAL TRADE SPECIALIST
International Trade Specialists work for investment firms, banks or governments or serve as consultants. They provide pertinent information to clients regarding global business expansion and development opportunities.
IMPORT/EXPORT SPECIALIST
An Import/Export Specialist is an expert who prepares and processes all required documents and permits for shipping purposes, conducts quality inspections of shipments, and maintains records of all invoices and transactions for local and international shipments.
CUSTOMS COMPLIANCE SPECIALIST
Customs Compliance Specialists are responsible for guaranteeing that all imports and exports comply with local and international regulatory laws, whether they are working for a government agency or a private enterprise.
HUMAN CAPITAL MANAGER
Human Capital Managers recruit, manage, develop and optimize employees. They are responsible for hiring the best talent to maximize the company's success.