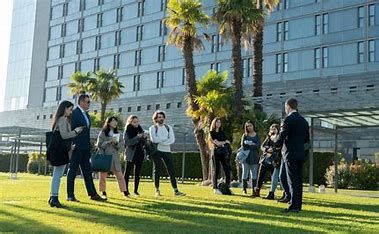 | | |
| --- | --- |
| Study location | Spain, Carrer D'Aragó |
| Type | Master, full-time |
| Study language | English |
| | |
| --- | --- |
| Tuition fee | €13,490 per year |
| | |
| --- | --- |
| Language requirements | English |
| | |
| --- | --- |
| Other requirements | At least 2 reference(s) should be provided. |
Overview
The exciting world of blockchain management offers numerous career opportunities. Pursuing a postgraduate diploma in Blockchain Management in Barcelona (hereinafter – Master in Blockchain Management in Barcelona) allows students to explore the dynamic field of blockchain, which is driven by disruption and digitization.
With the emergence of NFTs and digital currencies, the Master in Blockchain Management in Barcelona program provides students with a comprehensive understanding of the evolution of the Internet of Value. In simple terms, blockchain is a data protocol that enables untrusted parties to collaborate and verify transactions without the need for a third-party overseer, even in situations where there may be potential conflicts of interest. Experienced instructors guide students to gain expertise in monetary concepts, cryptocurrencies, and the various applications of blockchain technology for consumers, industries, and governments.
Originally designed for cryptocurrency transactions, blockchain technology's key feature of online security makes it the ideal tool for managing various types of digital transactions. Earning a Master in Blockchain Management in Barcelona degree enables students to easily assimilate into the financial technology industry, with a superior understanding of blockchain technology's capabilities and limitations for evaluating and solving tomorrow's business challenges.
Programme structure
GET SKILLED IN PROFESSIONAL LEADERSHIP, PROJECT MANAGEMENT AND FINANCIAL PERFORMANCE CONTROL
Effective Teamwork and Project Management (6 ECTS)
Operations Management (6 ECTS)
Finance for Management (8 ECTS)
DISCOVER THE CORE PRINCIPLES OF BLOCKCHAIN TECHNOLOGY
Tokenomics and Cryptocurrency Markets (6 ECTS)
Blockchain Technology and Platforms (6 ECTS)
Token-base Unit. Crypto Token and Other Types
Tokenised Relationship of Economic Agents
The Project Economy Tokenisation
Tokenisation of the Economy
Tokens and Their Taxonomy
Primary Token Market
Secondary Coin Market
Blockchain Technology Principles
Blockchain: The Technical Side
Blockchain: Smart Contract
Blockchain Platforms Taxonomy
Applied Blockchain Platforms and Projects
LEARN THE CORE CONCEPTS OF DIGITAL BUSINESS STRATEGY & TRANSFORMATION
Digital Transformation, Innovation and Technology (6 ECTS)
Business Intelligence in the Era of Big Data and AI (6 ECTS)
Digital Economy and Its New Driving Forces
Digital Strategy and Transformation
Drucker's 7 Sources of Innovation, Open Innovation
Strategic Approaches to Managing Innovation
Disruption Theory
Digital Transformation Journey
Main Machine Learning (ML) Techniques
Artificial Intelligence (AI)
The Fundamentals of Information Management
EXPLORE BLOCKCHAIN AND CRYPTOCURRENCY LAWS AND REGULATIONS
Blockchain and Crypto-Economy Regulation & Governance (6 ECTS)
The Regulatory Reporting Information Standards in Blockchain
Main Regulatory Bodies in Blockchain in the EU and the US
Regulation Around Cryptocurrencies
The Need to Regulate Blockchain Technology
The Implications of GDPR in the Bockchain Technology
InsurTech and PropTech Industries
INNOVATE AND VENTURE OUT INTO ONE OF THE FASTEST-GROWING SECTORS
Business Models and Entrepreneurship in Blockchain (6 ECTS)
Process of Business Modelling Based on Blockchain
New Tech Leaders and How Blockchain Can Impact the Current Tech Giants
Blockchain Projects Funding: ICO, TGE, STO and IEO
Blockchain in the Financial and Public Sectors
Entrepreneurial Opportunities in Blockchain
EVALUATE YOUR ABILITIES IN BLOCKCHAIN MANAGEMENT WITH A COMPREHENSIVE FINAL PROJECT
Final Project (Capstone)
Every Master's program concludes in the Final Capstone Project. This exciting initiative challenges students to apply their hard-earned knowledge and skills to a real-world problem (within their area of expertise) and devise possible solutions to said issue. Generating suitable solutions entails using information, resources and knowledge from the Master's program. These proposed solutions offered by students are often interactive and practical, enabling their implementation in professional settings or further research and study.
GO ON TO SUCCESSFULLY COMPLETE YOUR MASTER'S STUDIES BY DEVELOPING THE RIGHT TACTICS WITH STRATEGIC MANAGEMENT AND AN UNDERSTANDING OF THE GLOBAL ECONOMY & GEOPOLITICS
Economics and Geopolitics (6 ECTS) (Online)
Strategic Management and Analytics (8 ECTS) (Online)
Principles of Behavioral Economics
Geopolitics and Geo-economics Methodologies
Causes of Globalization
Strategic Management, Planning and Structure
Strategic Approaches to Analyzing the Position of an Organization
Data and Strategy
Career opportunities
BLOCKCHAIN PROJECT MANAGER
A Blockchain Project Manager oversees the planning, implementation, and monitoring of blockchain projects within an organization.
CRYPTOCURRENCY ANALYST
A Cryptocurrency Analyst examines and forecasts the patterns, prices, demand, and trading capabilities of various cryptocurrencies available in the market.
BLOCKCHAIN MANAGER
Blockchain Managers create products based on blockchain technology in a company, manage the team responsible for the blockchain operations, and may also be involved in overseeing the launch of the product.
COMPLIANCE SPECIALIST
A Compliance Specialist is responsible for ensuring that an organization or company is following all relevant laws, regulations, and policies related to their industry, and takes appropriate actions to remedy any violations or non-compliance issues that are identified. They may also conduct audits to identify areas of risk or potential non-compliance.
CYBERSECURITY ANALYST
The role of this specialist is to safeguard an organization's computer systems and networks against cyberattacks. They identify potential security vulnerabilities, implement security measures, and monitor the organization's systems for detecting and responding to security breaches.
DATA SPECIALIST
A Data Specialist is responsible for managing and analyzing large sets of data, making sure that it is accurate, complete, and secure. They work to identify patterns and trends in the data and use this information to help organizations make better-informed decisions.
DIGITAL TRANSFORMATION AND INNOVATION MANAGER
The Digital Transformation and Innovation Manager advises clients on their digital strategy and transformational initiatives, while also managing the creation and deployment of digital product prototypes.
SMART CONTRACTS MANAGER
The role of a Smart Contracts Manager involves managing blockchain-based innovative technologies that automate business processes, specifically optimizing workflow activities in multi-party arrangements.