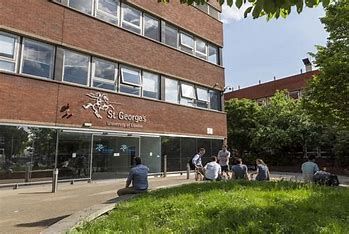 | | |
| --- | --- |
| Study location | United Kingdom, london |
| Type | Master, full-time |
| Study language | English |
| | |
| --- | --- |
| Tuition fee | £24,000 per year |
| | |
| --- | --- |
| Language requirements | English |
| | |
| --- | --- |
| Other requirements | At least 2 reference(s) should be provided. |
Overview
In the drive to improve people's health worldwide, policymakers and practitioners are becoming more aware of the stark differences in knowledge, practices, beliefs and identities in relation to health. Humanities is increasingly being seen to offer alternative approach to inform global health – not just biologically, but philosophically, socially and politically, from past, present and future perspective.
This specialist pathway aims to showcase the different ways of exploring and understanding health from humanities-based approaches, collecting human experiences and narratives, for example, to help people connect more easily. It covers a fascinating range of topics including health activism, narrative-based medicine and story-telling for trauma.
Global health is a fascinating, broad and multidisciplinary field that is underpinned by the desire to improve people's health worldwide, reduce inequality and protect communities from global threats, such as conflict, economic crises or preventable diseases which, as coronavirus has demonstrated, do not respect national borders.
In addition to our general degree in Global Health, we offer five themed degree pathways which enable you to graduate with a named degree award: Global Health and Conflict; Global Health and Humanities; Global Health and Mental Health; Global Health, Ethics and Law; and Global Health, Infection and Immunity.
Core compulsory and elective modules, common to each pathway, will give you the skills and knowledge necessary to understand, interpret and help solve critical global health challenges, and prepare you to conduct a high-calibre research project in your chosen specialism.
Past research projects have covered the full spectrum of the discipline – from a clinical project to examine correlation between COVID and HIV conducted here in the UK, for example, to assessment of mental health care provision in rural South Africa and an analysis of the narratives of women imprisoned in Afghanistan and Iraq.
St George's University of London is the UK's only university dedicated to medical and health sciences education, training and research. We share our site with a major London teaching hospital which is both on the clinical frontline for a diverse local community and a centre of excellence for specialist conditions. You'll study in a clinical setting with like-minded individuals, mixing with the many different healthcare professionals you will go on to work alongside throughout your career.
Programme structure
As well as a degree covering the broad subject of global health, we offer five themed degree pathways in the following specialist areas: Global Health and Conflict; Global Health and Humanities; Global Health and Mental Health; Global Health, Ethics and Law; and Global Health, Infection and Immunity.
By designing the suite as a series of related but independent modules, we can deliver a highly flexible programme allowing you to tailor your studies to match your interests and career aspirations. You can also accrue the appropriate amount of credits to achieve the intermediate awards of Postgraduate Certificate (PgCert) or Postgraduate Diploma (PgDip), building on each qualification over time to achieve your full master's degree.
The MSc is made up of 180 credits and can be studied over one year full-time or two years part-time. You will study one compulsory module common to all pathways, Global Governance for Health one elective module linked to your chosen pathway and choose one of three research support modules. You will undertake a research project in a topic linked to your themed degree and choose a number of additional modules from a list of eight optional modules depending on how much credit you need to complete.
To achieve the PgCert (60 credits), you must study the compulsory module and choose additional modules to the value of 45 credits. For the PgDip (120 credits), in addition to the compulsory module, you must choose additional modules to the value of 105 credits.
Module availability
It is possible that certain modules listed on the course page may not be able to run due to a variety of reasons, such as availability of specialist academics or patterns of student demand, including limitations due to minimum or maximum class sizes. The University will ensure that all affected parties are notified of any changes as soon as possible and propose relevant alternative options if necessary.
View all
Global Governance for Health (15 credits)
Global Health Humanities (15 credits)
Research project (60 credits)
Research support modules
If you are studying a full MSc, you may choose the following module to help you prepare for your research project.
Research methods (15 credits)
Optional modules
Depending on the amount of credits needed, you will choose from the list of optional modules below.
Antimicrobial Resistance (AMR) (30 credits)*
Conflict and Catastrophe Medicine (30 credits)
Culture and Mental Health (15 credits)
Global Environmental Health and Climate Change (30 credits)
Global Health Ethics and Law (30 credits)
Global Health and Comparative Health Systems (15 credits)
Global Health Diseases (30 credits)
Global Public Health Challenges (30 credits)
Humanitarian Action and Ethics (15 credits)
Infection and Immunity (30 credits)*
Migration and Health (15 credits)