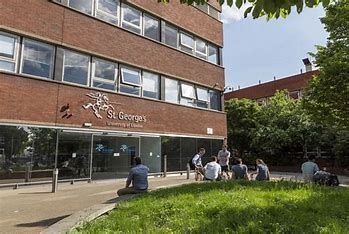 | | |
| --- | --- |
| Study location | United Kingdom, london |
| Type | Bachelor, full-time |
| Study language | English |
| Awards | bsc |
| | |
| --- | --- |
| Tuition fee | £18,250 per year |
| | |
| --- | --- |
| Entry qualification | High school / secondary education (or higher) |
| | |
| --- | --- |
| Language requirements | English |
| | |
| --- | --- |
| Other requirements | At least 2 reference(s) should be provided. |
Overview
Accidents, illness, disability, mental health issues and ageing affect millions of people all over the world, making it harder for them to do everyday activities, including education, work, leisure or caring for themselves. By working with service users, for example, teaching them new ways to do things, identifying specialist equipment and assistive technology or making changes in their environment, occupational therapists enable people with a diverse range of needs live a better life and do what matters most to them.
On our HCPC and RCOT accredited degree, learning is very much hands-on, developing your communication skills and preparing you for practice initially in simulated environments, including our dedicated Art of Living Suite, and subsequently on practice placements in an array of different settings. You'll deepen your knowledge of the human body and how it works through practical sessions in our anatomy and dissection rooms.
By combining theoretical knowledge with practical experience, this course explores concepts, principles and theories of occupational therapy and occupational science, human development, anatomy, physiology and psychology to develop a strong foundation to practice as an Occupational Therapist (OT).
You'll quickly realise that no day is ever the same for an 'OT' – you may find yourself helping someone rehabilitate after major surgery, or providing the adaptations which enable the elderly stay in their own homes, or supporting someone with mental illness, addiction or learning disabilities.
Over the course of three years, you will spend 1,000 hours, which is approximately a third of your time on the programme, on placement in and around London in a range of different settings to broaden your experience. These reflect the evolving nature of the profession and may include a wide variety of settings, for example, acute trusts, community settings, schools, local authorities, social enterprises, charities and non-traditional placements.
Programme structure
This three-year BSc (Hons) Occupational Therapy degree involves four successive practice placements with a total of 1,000 hours, which represents approximately a third of the programme.
Year 1
In Year 1, you will be introduced to the history, concepts, principles and theories of occupational science and occupational therapy, at the same time building a foundation of biological and biomedical scientific knowledge. We'll examine therapeutic communication, ethical practice in health and social care and relevant legislation and standards of practice. You will start to engage with sources of evidence and research for occupational therapy and occupational science. You also will complete your first practice placement. In doing so, you'll start to develop a range of essential skills for working with service users, such as maintaining dignity and confidentiality, developing effective observational and communication skills, learning to appreciate cultural and ethical issues, as well as health and safety, such as infection control procedures.
Our Essentials for Allied Health Professionals programme brings together students from occupational therapy, healthcare science, physiotherapy and diagnostic and therapeutic radiography to work together, so you can begin to appreciate the concept of multidisciplinary healthcare teams.
View all
Year 1 modules
Occupational Therapy MSc (pre-registration)
If you are interested in this course but have already recently graduated with a first degree, you might be interested in our Occupational Therapy MSc (pre-registration) instead, which will allow you to complete the course in an accelerated 2 years.
Year 2
In year 2, you will advance your knowledge, practical and research skills through your studies and on practice placement. You will learn to implement a range of occupation-focused interventions for people with different needs across the lifespan and in diverse contexts.
View all
Year 2 modules
Year 3
The final year will focus on expanding your leadership and reflection skills as well as opportunities for service development and innovation within contemporary practice settings. You will also conduct a research project, relevant to occupational therapy practice or theory and complete your final two practice placements in the programme.
Year 3 modules
Placement
The variety and volume of placement opportunities we offer is what students tell us they like most about our course – practice placements are undertaken in a variety of health and social care environments, including acute NHS hospital trusts, community-based services, mental health services, social care and children's services.
The supervised, hands-on experience you get with service users and patients on placement is the best way to consolidate your learning. You will gain experience of working as part of a team, demonstrating professional behaviour and implementing a range of occupational therapy assessments and interventions.
Over the three years of the programme, you will be expected to undertake a minimum of 28 weeks of placement, with full-time working hours. On placement, you are supervised by a practice educator who will facilitate your learning. You receive support from your University link tutor who will meet with you at least once during the placement and provide support as needed. You should be prepared to travel for your placements within the London/Greater London area.
Below are some examples of where our students have attended practice placements.