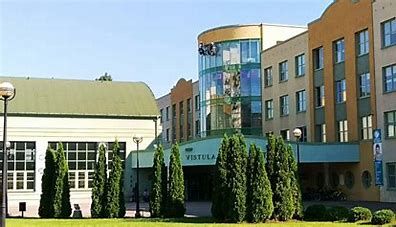 | | |
| --- | --- |
| Study location | Poland, Mazowieckie |
| Type | Master, full-time |
| Study language | English |
| | |
| --- | --- |
| Tuition fee | €3,000 per year |
| | |
| --- | --- |
| Entry qualification | Undergraduate diploma (or higher) |
| | |
| --- | --- |
| Language requirements | English |
| | |
| --- | --- |
| Other requirements | At least 2 reference(s) should be provided. |
Overview
Master's degree English Studies at Vistula University are addressed to people who are planning to work in international structures, who are interested in new media, who want to be actively involved in cultural life and discussions on social problems, who want to become professional translators of specialist texts or editors of foreign language texts in the media.
Master's degree English Studies at Vistula University are conducted wholly in English. In the course of the studies, you will develop further your knowledge of the English language gaining already after four semesters proficiency in English at the C1 level according to the EU requirements. You will also learn a second foreign language at the B1 or B2 level if you join an advanced group.
Master's degree English Studies will let you gain a broad array of specialist skills as well as develop competences in writing different types of texts and making written and oral translations. You will gain detailed knowledge of the culture of Anglo-Saxon countries as well as the domain of media studies and film studies. You will have internship in a language school, a translation office, a media or cultural institution or in an international company. You will thus gain valuable professional experience as well as the ability to always find your place in the dynamically changing labour market.
English Studies at Vistula University in Warsaw have been designed so as to prepare you in the best possible way to taking up work in a selected area. The practical approach and the broad range of competences gained will make you able to develop in any particular direction and thus decide yourself about your future. After graduation, you will be conferred the title of Master of English Philology.
Attending master's degree English Studies at Vistula University in Warsaw, you will develop a number of crucial skills such as critical thinking, evaluation and synthesis as well as analytical, speculative and creative interpretation of works of culture. You will gain knowledge not solely in the most important areas of philology, but also in business and marketing. You will prepare for work in the sought for profession of English philologist, not only in Poland, but also abroad. You will easily find yourself in the publishing sector – as author of texts and books, translator, editor, distributor or specialist in sales and marketing.
In the course of master's degree English Studies, people interested in becoming professional translators can attend translation workshops focusing on a variety of texts – business and specialist (law and legal, economic, medical context) as well as film and literary. Future managers of culture or publishing sector workers will gain comprehensive knowledge necessary to obtain professional qualifications. Deepened and extensive knowledge of contemporary and traditional media as well as trends in culture will open for English Studies graduates possibilities of working as journalists, editors or social media managers. English language classes will provide you, apart from further enrichment of language knowledge and skills, a lot of information about the culture and history of the Anglo-Saxon countries as well as workshops in creative writing. Classes are designed in response to students' interests and needs as well the dynamically changing market requirements.
Programme structure
The programme of master's degree studies in the field of English philology at Vistula University in Warsaw has been designed so that students will be able to master practical knowledge of the English language as well as another language of their choice. You will also gain useful knowledge of the language of business and marketing, extensive and diversified preparation for operating in the domain of culture and media as well as a good translation workshop. You will gain skills in high demand in the market as well as self-confidence. With a diploma of a master's degree in English Philology you will find it easy to pursue a career in any selected area in Poland or abroad.
Career opportunities
After the completion of studies in the field of English Studies, you can pursue a professional career in a large number of interesting areas:
as teacher in a school or a foreign-languages-teaching centre,
as an editor of English language portals or press,
as an organiser and manager of cultural events,
in a translation office,
in the publishing branch,
in the media
in the branch of tourism and entertainment,
in international firms and corporations,
in state and non-governmental organizations, in educational institutions.